Block Windows 10 Update
Block Windows 10 Update | Tech Tips Article by PcCG
Users of Windows 7 and Windows 8 are given an opportunity to upgrade to Windows 10 for free. You can do this until July 28, 2016 when the free offer expires.
Some people are perfectly satisfied with their current version of Windows and do not want to upgrade. 
We recommend that if everything is working fine, and you are happy with things as they are – not to upgrade. Why? While upgrading provides benefits, it also has drawbacks. The most important drawback is that you can make a system that was working fine into a problematic machine. You may encounter issues during upgrade, or may not like the new version after the upgrade is complete. Usually you can restore back to the old version, but not always.
The flip side to consider for upgrading is support. Microsoft support for Windows 7 will completely cease in 2020 and some support has already been pulled back.
There have been many reports that Microsoft has decided you don't get a choice in the matter anymore - something we find wrong. For many, they simply return to their computer one day and find it has been updated to Windows 10 without their knowledge!
So for those that want to keep with their current version of windows and are annoyed by the pesky Windows 10 update notification – there is now an easy way to remove and block it.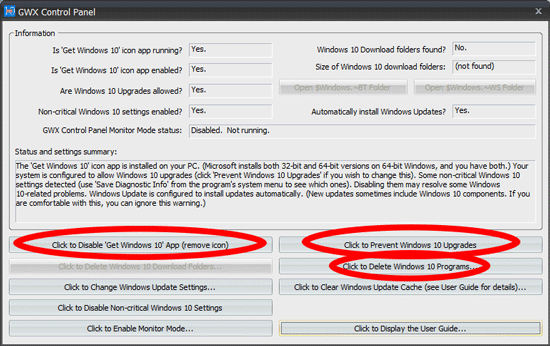 Simply download and run: http://ultimateoutsider.com/downloads/GWX_control_panel.exe
Once open click the "Disable 'Get Windows 10' App". (Permanently remove icon)

You can also select the "Delete Windows 10 Download Folders" to clear up some hard drive space.

Also be sure to select "Click to Prevent Windows 10 Upgrades"

Also be sure to select "Click to delete Windows 10 Programs"

Once you run this program the Windows 10 update notification will no longer bother you and Windows 10 should not magically appear on your computer.
Update: Interested in learning more about Windows 10? Read our review here: Windows 10 Review